Online ordering is now essential. More customers pay electronically than with cash. Point-of-Sale tills are complete computer systems.
We believe that independent restaurants and coffee shops should have a simple and affordable way to keep up with current technology and trends, that every business owner should have the right to access and use it. We believe you should own your equipment instead of leasing, that your customers belong to you, and we want you to feel proud of your own online ordering platform.
We strive to constantly improve our products and maintain a high level of service for our clients. We have great plans for the coming months and years, and we hope you'll join the Ordara family to become a part of it.
Our story began early 2017 when two friends, Sal (restaurateur) and Alex (programmer), joined forces to build a computer system specifically for busy takeaway restaurants. There was nothing available which could satisfy the needs of a busy takeaway and delivery business, or that could handle the special customer requests not found in other types of restaurant, and that wouldn't charge commission per order.
Over several months Sal and Alex meticulously designed and built the beginnings of Ordara. After just a few weeks of testing at Sal's restaurant we had requests from five other restaurants in the same town to provide them with a system too. Word of mouth quickly spread, our calendar filled, and we were booking new installations 3 months in advance!
Now our system processes thousands of orders daily and we're expanding our business to cope with the fantastic demand. We've met with and helped hundreds of restaurant owners and managers save time and money, and improve their customer's experience. Maybe we can help you.
Taking our first phone order (2017)
Matt
Helps clients with menu and price changes, writes user guide, and helps out on larger installations. He doesn't drink coffee (despite our best efforts).
Muj
Takes sales enquiries and works with Turkish-speaking clients for menu changes. Add interesting fact about Muj here.
Chander
Develops the Android and iOS apps for clients as our mobile software engineer. Some weekends he helps on the family poultry farm.
Laboni
Translates artwork from paper to digital for new and existing clients, and graphic design for SEO and social features. Loves spicy food.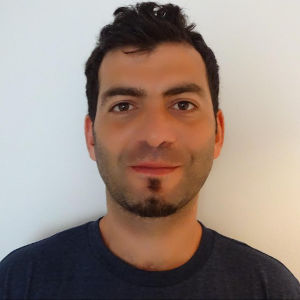 Sal
Co-founder and lead sales manager, Sal helps new clients choose the right package and makes sure the transition to Ordara is smooth.
Alex
Co-founder and lead developer, Alex works on the web apps and backend systems. Always found near a computer or coffee machine (preferably both).